About Centauri Arts Camp…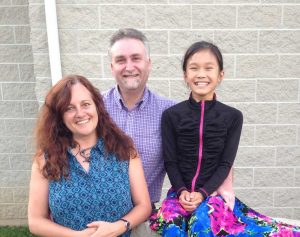 Dear Parents and Campers,
Twenty-five years ago, we arrived in Canada from England with two suitcases and a dream. We wanted to open a summer arts community for young people – a place where youth with creative interests could grow, learn and have fun in a nurturing environment and in the company of others who shared their enthusiasm for the arts. We were newlyweds in our mid twenties. Craig had business management experience. I worked as Head of Drama at a top UK school, and had just won my first writing award. We both had professional experience in theatre.
Ten months later, Centauri Summer Arts Camp was born.
An exceptional summer camp is always a labour of love for those who run it, and for all who work there. An overnight camp should feel like a small village – one in which the entire culture is shaped by young people and their needs – educational, social, personal – impact everything the village sets out to be. Centauri is a place where excitement, energy and enthusiasm abound – through inspiring activities, moments of spontaneous joy, festivals, dances, spirit suppers and more. But it is equally a place for calm reflection, with campfires, stargazing, storytelling, music and friendships that deepen through shared experience. At camp, young people look out to the wider world but also inward, as they write, make music, dance, paint, act, create movies and explore their artistic dreams.
Centauri is a safe space where young people use the arts to learn more about themselves and the world. Check out our Arts Summer Camps here!
Camp is for everyone. Boys and girls. Extroverts and introverts. Eight year olds and teens about to embark on their university years. Youth with arts ambitions, and complete beginners going away to camp or trying the arts for the first time.
Twenty-four years on, Craig and I are still the owner-directors of Centauri. Through the year, we run the Centauri Arts Academy in Toronto (www.artsacademy.ca). I also write books for young people; my novel, The Finding Place, was recently published across North America. We are active in the arts and in education through the winter months – and spend every summer living on site, at camp.
Over the years, thousands of parents have entrusted their children to us, and thousands of young people have had the summer of their lives at Centauri. Camp may be a village, but it's also a family, and we look forward to inviting your family into ours.
Julie and Craig Hartley
Check out our Arts Summer Camps here!
Check our the Arts Academy, Toronto, here!
Want more information? Complete our online form
| | |
| --- | --- |
| What we are | What we're not |
| Nurturing, cooperative, ensemble based | Goal oriented, stressful |
| A solid training in the arts, which teaches young people to respect other artists, past and present, and to celebrate their own creativity | A 'Junior Broadway' which uses glitzy sets and costumes to make young people feel like stars. |
| 'A safe place to play' with the temptations of a media-driven, urban world safely out of reach. Campers tell us they can be themselves at Centauri, not the person they have to be to survive teenage peer pressure and temptations in the outside world. | A place for cliques, peer pressure and hierarchies. We have a zero tolerance policy for drugs, cigarettes and alcohol and a strong support system of mature and caring staff. |
| Workshop based, with a focus on taking risks and self-discovery; campers participate in a short demonstration of skill at the end, not a full length presentation | Goal oriented; just focused on creating a show. |
| Focussed on the needs of each individual | Focussed on the group as a whole, with the strongest leaders ruling the roost. |
| Fun, relaxed, busy, friendly and exciting! | Boring! |