Information for Parents
"You have taken our daughter from feeling invisible to feeling like she is on top of the world. We are so happy we found Centauri – it has opened our lives in a very positive way."
"I just thought I would write a quick note to tell you how VERY much Jake enjoyed your camp.  He has three siblings all VERY involved in sports and he is not interested, so sometimes he feels as though he doesn't fit in. This last week he was able to meet so many like minded people.  He loved it.  Thank you for doing what you do.  I do believe you will have a "LIFER" in Jake.  It was wonderful to see what he feels passionate about and what he is good at. "
Our Philosophy…
As a specialty sleep-over camp with a focus on the arts, our goal is to provide the best in arts training, combined with an exciting summer camp experience. We offer a nurturing, supportive community in which every camper can grow as a person, make friends, develop new skills and have the time of their lives.
The Camp and the Directors…
Centauri Summer Arts Camp was established in 1994 by Julie and Craig Hartley, who emigrated from England to follow their dream of creating a summer arts community for youth. Since then, Centauri has grown into a second home for 140 youth per session from Canada and across the world. Julie and Craig Hartley are still the owner-directors of Centauri, living on camp all summer and participating actively in camp life.
Our Staff…
Centauri brings together leaders who are outstanding role models for the campers they inspire and instruct. The majority of our staff return year after year, a factor that contributes to the high standard of arts teaching and the exceptional community spirit.
Centauri has a high staff ratio. All counsellors are over the age of 18. All staff receive a personal interview and references are always checked. All staff undergo police checks and receive extensive pre-camp training in camp safety policies, first aid, camper medical conditions and emergency procedures, as well as appropriate camper care and teaching techniques.
Our Camp Counsellors
Camp counsellors form the backbone of our community, providing guidance, nurturing, friendship and fun. Most of our counsellors were known to us for years as campers, undergoing a rigorous selection and training process before joining the staff.
Our Teaching Faculty
Program Directors are arts professionals with teaching experience who design and teach our programs. Their presence in camp adds the unique arts dimension to Centauri. Program Directors are always on hand to advise and inspire campers, participating in all facets of the community.
We asked some of our campers, What does Centauri Arts Camp mean to you?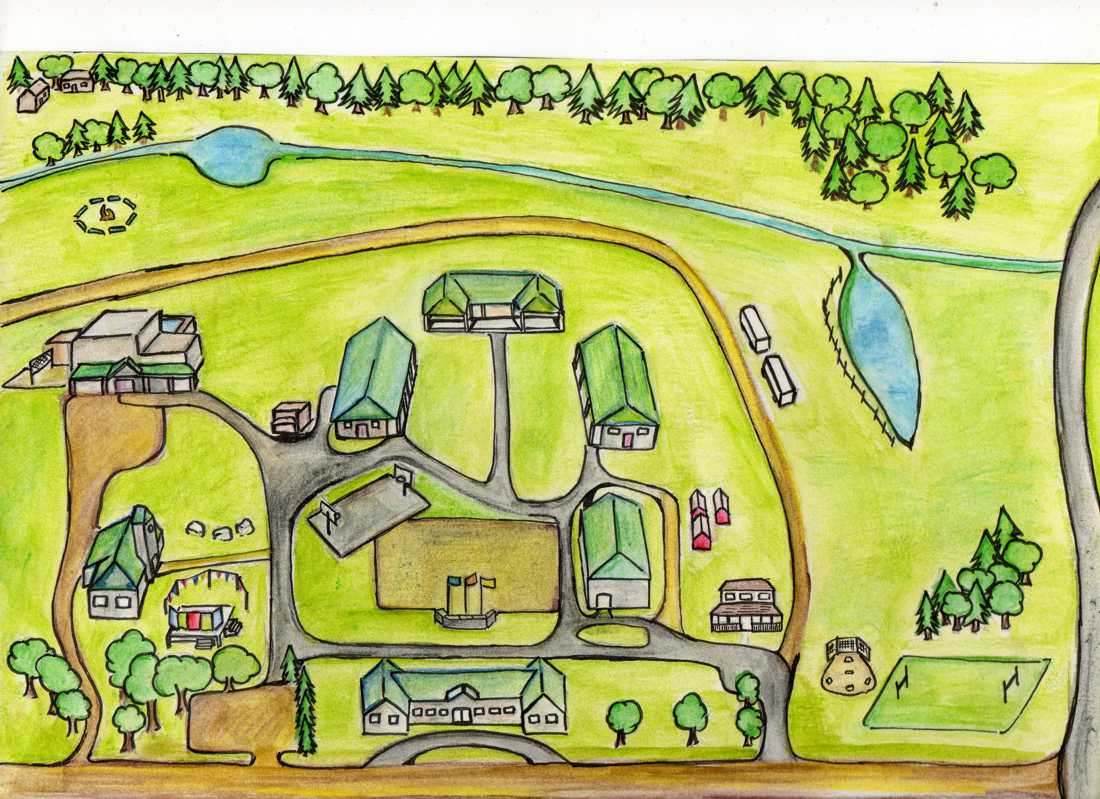 Our Facilities…
Centauri Summer Arts Camp is located at a rural facility in the Niagara Region of Canada, 1.5 hours west of Toronto and 45 minutes from the US border. We have a 30-acre central campus surrounded by 170 acres of forest, fields and meadows. We have excellent accommodations: three dorm buildings with indoor washrooms and recreation rooms; a lovely dining hall, sports facilities, a wellness centre and a small pool. Arts facilities include indoor and outdoor theatres, music rooms, art studio, graphic arts lab, dance studio with sprung floor, writing room, film studios and rehearsal rooms.
References and Testimonials…
References, Home Visits and More! We're very proud of the summer opportunities we offer with young people, and the relationships we establish with our camp families. Please call us, and we can discuss the individual needs and interests of your child. Telephone references can also be provided. For families within easy reach of Toronto we are always happy to arrange to meet with you in your home.
"I am so impressed by the staff and their commitment to nurturing and supporting all areas of the kids' lives, emotional and artistic."
"I have never seen my child so enthusiastic and comfortable in a camp setting. She did not stop talking about all of the wonderful things she did… your staff brought out the best in her. Thank you, from the bottom of my heart."
Our Commitment to Health & Safety …
Centauri has been an accredited member of the Ontario Camps Association for the past 19 years. We have an outstanding safety record, a high staff ratio, an extensive staff training program and dedicated, mature counsellors. At least one camp nurse is on site at all times and all our staff are first aid trained. Our chefs prepare excellent, nutritious food which includes vegetarian options at all meals and an extensive salad bar at lunch and dinner.
Medical Facilities & Staff…
Centauri has a health care specialist on camp 24 hours a day. Our Camp Nurse focuses on maintaining a healthy and safe camp as a daily priority. This includes educating campers and staff about sun safety and nutrition. The Nurse is in constant contact via two-way radio.
Centauri has a well-equipped Health Centre. Local Doctors are located 10 minutes away and there are 2 hospitals within a 15 minute drive. We have an excellent health and safety record. All policies use the Ontario Camping Association Standards as a minimum.
Food and Allergies…
Most allergies can be catered to as long as we know at least 4 weeks in advance. Depending on the type of allergy, parents may be asked to supply specific items. Centauri endeavors to maintain a nut and peanut free camp.
 Special Options…
Vegetarian / no pork meals can be provided as long as we know in advance of camp.
Campers who request these meals will stay on that option for the duration of camp.
Our food…
Our campers and staff rave about our food! Our goal is offer our campers nutritional and delicious meals, balanced with some 'kid' favourites such as burgers and pizza. Camp meals are prepared on site, using local ingredients where possible, and we serve a meal and vegetarian option at every meal. Our kitchen team is headed by a papered chef (Bruce) who prepares all our menus to the highest possible standard. Breakfasts always include hot and cold choices, and we have an extensive salad bar available at lunches and dinners. Our chefs prepare daily snacks for us that include homemade cookies and granola bars, as well as fruits, cheeses and crackers. We have dessert most evenings, hot chocolate before bed some nights, and our ice cream sundaes are a favourite treat on the last dinner of each session.
A Sample Menu…
This is an example of the type of food we serve at camp. The menu changes daily.
Breakfast
Assorted cereal, yogurt, fresh fruit, cottage cheese
Hot cereal
Hot breakfast option: pancakes with maple syrup
Choise of juices and milk
Lunch
Fresh salad bar available (10 items, including humous, breads, cheeses)
Quesadillas: Beef & roasted veggies, OR cheese & avocado & roasted veggies
Dinner
Fresh salad bar available
Vegetable noodle soup
BBQ chicken or tofu, veggie stir fry with wild mushroom rice. Broccoli spears.
Dessert: Fruit or Chocolate Mousse
Accreditations and Memberships
Centauri Arts Camp has been a member of the Ontario Camps Association since inception and is a fully accredited camp with the Ontario Camps Association.
One Session… or Longer?
Campers at Centauri can stay as many sessions as they wish and about half our campers stay with us for 2, 3 or 4 sessions. Campers attending for multiple sessions choose a new specialist activity for each session they attend. We offer a multiple session discount, and all presentation days are Visitors' Days for family and friends. The evening meal, overnight accommodation, breakfast, activities and supervision is offered free of charge between sessions for all campers staying over.
FAQs
Click here for a 'frequently asked questions' page 
Travel and Transportation
Since we are located only 1.5 hours from Toronto and 40 minutes from the US border, many parents bring campers directly to camp, and share in the first day 'welcome'. We also offer bus transportation from the west end of Toronto, and transportation from Toronto's international airport. Transportation to camp is free of charge in most cases.
Click here for more travel details. 
A nurturing environment and a strong sense of community give each camper a feeling of belonging which maximises self esteem and personal growth.