Day 7
This morning we left Stratford by coach, travelling to London via Uffington. Our morning drive was longer than anticipated due to traffic volume, but we arrived at Uffington in time for lunch. Yesterday's focus was Elizabethan and Jacobean drama: today, we took a step back at least 3,000 years further, to explore the Celtic routes of England through its ancient monuments and folklore, while also returning to the other theme of our trip – hiking!
T
he White Horse of Uffington is a mysterious chalk figure embedded in the rolling grasslands of Oxfordshire. It's famous because no one really knows why it was created. The outline crests a sweep of hillside, making it impossible to see it in its entirety except from the air – yet it was created several thousand years ago. The White Horse also has a personal meaning to Centauri campers and staff: it's the place where the original plans for camp were laid, nearly a quarter century ago. The weather was gorgeous as we tramped to the top of the horse, then down the other side to Dragon Hill, the mythic site where St. George supposedly slew the dragon. We relaxed in sunshine, ate lunch and shared a folk story based on the horse's creation, before heading across the grasslands by public footpath to another famous ancient site: the Neolithic Burial Chamber known as Wayland Smithy. The towns and villages of Oxfordshire lay at our feet as we walked the route known as The Ridgeway, now a long distance public footpath but also thought to be the first permanent road in England, laid thousands of years ago. Wayland Smithy is a mysterious mound ringed by stone, set in a grove of trees so it is always in shadow. We shared the Saxon story of "Wayland the Smithy" which gave the site its name, and which suggests that the Arthurian sword, Excalibur, was forged in this exact spot. Finally, we followed The Ridgeway back to our bus, and continued on our way to London. Tonight's dinner was eaten in the hostel restaurant, and campers had time to relax together after our hike.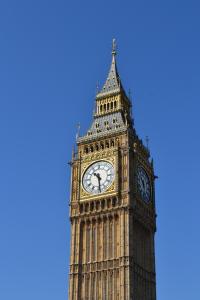 Day 8
On this tour, we're spending only one day in London – but we really made the most of it! After a cooked breakfast, we headed into the centre of London by Tube, learning about the history of the city along the way. We alighted at Westminster, beginning our tour with a view of the Thames, the Boudicca statue and (of course!) the Houses of Parliament and Queen Elizabeth Tower (Big Ben). From there we walked past Westminster Abbey and into St. James' Park, arriving at Buckingham Palace with just enough time to see the Canadian War Memorial before viewing the Changing of the Horse Guards. After that, we walked past St. James' Palace and down The Mall, turning into Trafalgar Square where we all had a picnic lunch at the fountain beside Nelson's Column.
After our morning tour, we had an hour to take in the highlights of the National Gallery, before walking through Bloomsbury to the British Museum. We spent two hours there, and most campers managed to see several of the 'Top Ten' attractions, including the Rosetta Stone, the Enlightenment Gallery, the Elgin Marbles and the Sutton Hoo treasures. We paused at the London-themed gift shops outside the museum, before walking from there to the British Library, to take in the famous manuscript museum, which includes gorgeous early illustrated manuscripts dating back to the 7th century, as well as old maps, first editions of famous literary collections, and notebooks in the handwriting of Jane Austen and others. There was even a special exhibit of lyrics written by The Beatles! From there, we walked the short distance to Kings Cross Station where – of course – we lined up to take photos at Platform 9 ¾!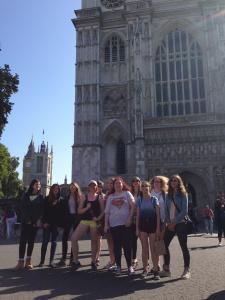 Our final stop of the day was Covent Garden – for dinner. Fans of My Fair Lady got to take photos on the steps of the Opera House, and we headed back to the hostel with a brief stop at Tower Hill along the way, to look out at the Tower of London, illuminated in the darkness, and to take a final group photo with the tower as a backdrop.
It was close to ten when we arrived back at the hostel, having packed everything possible into our London adventure. We gathered in one of the dorm rooms and shared a final 'Roses and Thorns', each of us discussing our favourite moments over the past week. Katie and I had one last surprise – dried heather from the moors above Top Withens. Each camper broke a piece from the sprig to press in their journal as a tangible memento of our tour.
Tomorrow, we've booked an early breakfast for 7am, and we leave for Gatwick by coach at 7.30am. This has been a terrific group of people, and an amazing week –  we're proud and honoured to have been able to share England with you all.
So now, as we move into Labour Day weekend, the Centauri summer – which began back in June – is drawing to a close. We've shared arts adventures with 400+ young people from 19 different countries, on 2 continents. We've mounted 41 presentations – exhibitions, film premiers, live performances, readings – as well as 7 festivals, 4 cultural banquets, 18 spirit suppers, 2 concerts, 24 evening programs and 4 memorable candlelit ceremonies around the campfire. Our campers and our staff take away countless memories of new friendships formed, skills made, and achievements celebrated. In a few hours, our season will be over, and we'll take a few days off before we begin our plans for 2018. Registration opens for next summer on Saturday 18th November!
Julie Hartley
Director
Centauri Arts