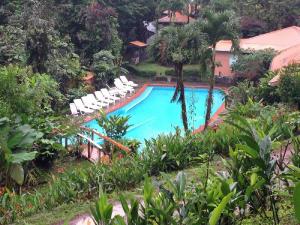 Did you know that in addition to our summer camp, Centauri also runs an annual Creative Writing Retreat in Costa Rica? The trip is for adult writers (or anyone wanting to try writing for the first time). People attend alone, with friends, or bring along the entire family. Our retreat takes place every February in a gorgeous lodge in the rainforest, close to La Fortuna in Costa Rica. There's a pool, hot tub, spa services, hiking trails, on-site workshops and plenty to do nearby. Writing workshops take place for our adult writers every morning, facilitated by writer and camp director, Julie Hartley. Afternoons can be spent writing, or taking advantage of the many holiday options available.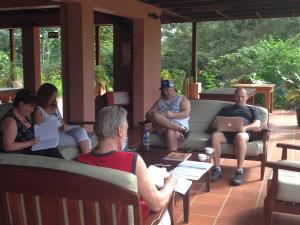 So perhaps you are a parent interested in trying out a writing trip such as this, but you're thinking – what's in this for my kids? First of all, if you bring along your kids or teens, they have the option of a one hour private writing workshops each day. Secondly, our lodge – Finca Luna Nueva – is a living classroom. There are countless birds and exotic mammals in the rain forest, just steps away. It represents a look at an alternative to modern life – one in which we live our life in harmony with nature, and look at a more sustainable way of life. The restaurant serves healthy, organic, local foods – including fantastic tropical fruits you could literally pick from the trees. There's a farm on the property that showcases sustainable practices, and university students visit from all over the world to learn about this, and about their sacred seed garden – a repository for va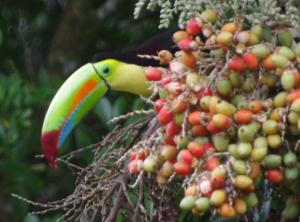 luable plants and herbs found only in rain forests and now in decline. Guests of all ages can take educational workshops right at the lodge – including a night hike and a traditional chocolate making class. Finally, within 15 minutes of the lodge there's horseback riding, caving, hikes to a volcano and guided tours of fragile rain forest eco systems. Young people – and older – learn more in a week than you'd ever think possible. Our lodge is a serene and gorgeous place to learn about writing – but you'll leave with far more than a notebook bursting at the seams.
Perhaps you rarely travel? Then this is the ideal way to begin. This trip is fully escorted from the moment you arrive at San Jose's international airport. Julie Hartley is the tour director, and will be on site for the entire week. There's so much to do at our lodge, you could be there the whole week and not even leave – but if you choose to, sightseeing opportunities can be booked directly at the front desk.
Consider joining us this coming February, for a unique holiday experience. It's an adventure in creative writing – and so much more. http://www.centauriarts.com/retreats/creative-writing-retreats-and-holidays/
Julie Hartley
Director
Centauri Arts
416 766 7124